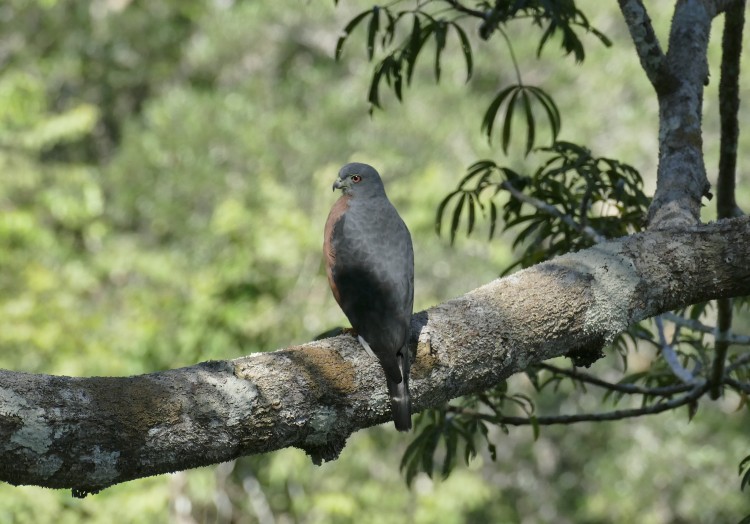 Sani Lodge, Orellana & Succumbios, ECUADOR
29 April 2019 – 10 July 2019

I undertook a 2 1/2 month training program for young local Sani Community guide prospects. Focusing on both practical an theoretical training we spent a maximum time in the field, locating as many specialties of the area as possible. We emphasized on quality over quantity as we tried to see the birds as good as possible and learnig about the differnt aspects of professional bird & wildlife guiding and identification of some common but difficult species/families. We gatherd a large amount of information (e.g. many soundrecordings which are included in this trip) about some of the area's, in fact Ecuadors's least known birds. We managed to get the first published fotos & videos of Rio Suno Antwren. The participants of the workshop were: Eddy Guallinga, Simon Aviles, Reynaldo Aviles. The species list included in this report is not complete, as we didn't keep track of every single species observed.
The Sani Isla communal territory encompases 40 000 hecatares of protected forest. It is the only indigenous community between Coca and the Peruvian (!) border which has with success, prevented oil companies from building a road all the way to the Peruvian boarder. To keep it like that, it is important that the Sani Isla community can run the lodge on a profitable, sustainable basis. You can support this by visitng Sani Lodge https://www.sanilodge.com, a truly fabulous, most amazing piece of land. It is run entierly and exclusively by the Kichwa people frome Sani Isla Community, which will share their cultural and natural treasures with you!
Visited Sites
General Travelling Information
The wettest months on average are from end of April - mid July, the driest are from end of July - end of September. Subject to climate change! Birding is productive year round. Most birders visit during the dry spell.
Acknowledgements
I' m most grateful to all the persons I met and dealt with, at Sani Lodge & the Community. Thank you for sharing together a most productive and inspirational time. Eddy, Simon & Reynaldo our friendship will last! To be continued...
Mari Munch was invaluable in helping setting up the workshop beofre & during the stay - Thank you so much, I'm privileged to know you
Sani Lodge
Located at the beautiful Challuhacocha blackwater lagoon, Sani Lodge provides access to all major habitats within the region. From the lodge grounds itself, there are a number of trails through Varzea and transistional forest of various length. The clearing and adjacent forest border is often very productive: Smaller mixed species flocks pass through the clearing. Overlooking the lagoon and its surroundings from the porch or bar area is highly rewardable as many aquatic birds, large Rapotrs, Toucans, Macaws & Cotingas can be seen from here. As well, it's a perfect spot to indulge the impressive dawn chorus of animals or watch a beautiful amazonian sunset, sipping a delicous tropical cocktail.
By a 30 min. canoe ride across the lagoon you access the excellent 40m high, very sturdy Canopy Tower built around a Ceiba tree - a highlight of the lodge. It's one of the most productive Canopy Towers in the area! Early in the morning and late in the evening are of course the best time for visits. Raptors, Cotingas and Tanager flocks show up regularly. The lagoon itself, the creeks & surrounding Varzea each hold its specific set of birds - some of them are among the top attraction of the area. For example there are several territories of Cocha Antshrike, Orange-eyed Flatbill & Orange-crested Manakin!
Terra Firme forest:
Terra firme is accessed mainly on the south bank of Rio Napo in Yasuni National Park (Orellana Province). It's the most species rich biome on earth. The river itself is a biolocigal barrier for several organizms. There are various communal trails into excellent forest. Ridges and flatter areas are both accessed. Mixed flocks, frequent army ant swarms and their obligate followers, some of the most sought-after species of the Rio Napo river drainage occour. Although for some, you'll have to put in some considerable effort in order to locate them. Jaguar tracks & larger mammals are frequently encountered.
River Islands:
The Amazon River Islands are very dynamic & little studied habitat with specific species inhabiting them! The island's succensional stages are important for what's to be expected to see. Older growths harbour Long-tailed Potoo, Rufous-headed Woodpecker and Castelnau's Antshrike. Young, early succesional stages are best for Olive-spotted Hummingbird, several Spinetails, Black-and-white Antbird and different Tyrant-Flycatchers. Amazonian Umbrellabirds are often seen crossing the Napo River and sitting in taller trees of the river islands. Ideal, early succesion River Islands where not present at the time I visited, and were only to be reached a quite long way downriver from the lodge.
Two smaller clay licks for Macaws & allies are accesible from the lodge by boat. It's season and weather depending on what species and how many individuals you'll see
Target species
Nocturnal Curassow

Nothocrax urumutum

Sapphire Quail-dove

Geotrygon saphirina

Rufous Potoo

Phyllaemulor bracteatus

Zigzag Heron

Zebrilus undulatus

Crested Eagle

Morphnus guianensis

Harpy Eagle

Harpia harpyja

Brown Nunlet

Nonnula brunnea

Rufous-headed Woodpecker

Celeus spectabilis

Buckley's Forest-falcon

Micrastur buckleyi

Black Bushbird

Neoctantes niger

Western Stipple-throated Antwren

Epinecrophylla haematonota

Rio Suno Antwren

Myrmotherula sunensis

Cocha Antshrike

Thamnophilus praecox

Castelnau's Antshrike

Thamnophilus cryptoleucus

Lunulated Antbird

Oneillornis lunulatus

Ash-throated Gnateater

Conopophaga peruviana

Orange-crested Manakin

Heterocercus aurantiivertex

Black-necked Red Cotinga

Phoenicircus nigricollis

Orange-eyed Flatbill

Tolmomyias traylori

Ecuadorian Cacique

Cacicus sclateri
How to get there
Gateway is the small town of Coca (Orellana Province), as well known as San Fransico de Orellana. It is located at the confluence of the 3 rivers Napo, Coca & Payamino. Coca is easiest reached by daily and frequent buses from Quito on a 8-12h long but spectacular bus ride or by daily flights from Quito (40 min.). Depending on when you arrive in Coca you'll have to spend the night in there. Hotels are plenty and readily available.
In Coca visitors are met by the Quay by Sani Lodge staff. You can arrange a pickup at the airport/busterminal or Hotel your staying at but many people get to the Quai individually by Taxi (ca. 1.5 dollar) since everything is very close by in Coca. At the Quay you're boarded onto comfortable motorized (& tarpaulin covered) canoes. The boatride takes 3-4h (depending on waterlevels, hence rainy/dry season) downriver on Rio Napo to the checkpoint & entrance of Sani Lodge. Via boardwalk (10min. walk) through Varzea and transistional forest you access the embarking point from where you'll be canoed through a black water channel and lagoon to the lodge itself. (25m. without wildlife watching). Your luggage is carried & trnasferred all the way from Coca to the lodge by Staff from Sani Lodge!
Facilities & accommodation
Excellently maintained, the lodge blends very well & beautifully into the area! It resigns to luxury, instead has an authentic feel with nice wooden cabins (hot showers) and very good services, throughout . Electricity is taken from solar plants, there is Wifi and laundry service. The food and cocktails from the bar are simply put DELICIOUS. The lodge and all operations in conjunction with it, are run by the indigenous people from Sani Isla Community!
Local guides
Professional billingual guides for every needs and purpose are booked through the office in Quito in advance. Specify, if you require a birdguide! They are all from the Sani Isla community, too!
Species List
Order:
systematic
|
alphabetic
|
highlights first