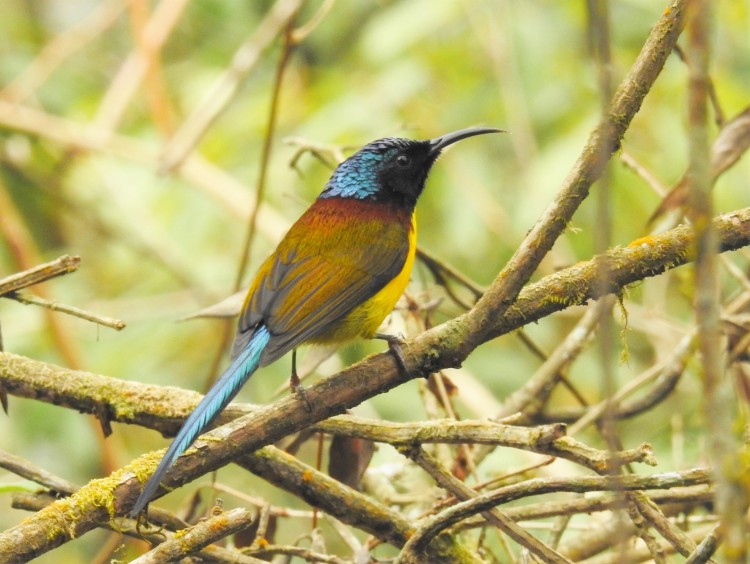 North India Birding Tour: Trip Report, February-2018
05 February 2018 – 15 February 2018

Overview:
An exciting tour set for us around some natural and religious places in Kumaon valley Uttarakhand, a new destination for the participants. Uttarakhand is very rich in culture, history and indeed flora and fauna. We visited some great destinations during the trip, the famous national park Corbett, important birding hotspots in Uttarakhand such as Pangot and Sattal, and a very famous temple Jageshwar Dham.
The tour connected with so many beautiful and rare birds such as Ibisbill, Walcreeper, Pallas's Fish-eagle, Brown Dipper, Cheer, Koklass and Kalij Pheasants, Hill and Rufous-throated Partridge, Scaly-breasted and Pygmy Wren-babbler, Chestnut-headed Tesia, White-tailed and Siberian Rubythroat and a very rare bird indeed, theGrey-crowned Prinia. We focused on quality birding instead of quantity and added only those birds on the list which Roger Smith had seen with great view. A total of 229 bird species recorded during this trip.We also managed to locate some mammals such as Asian Elephant, Sambar, Hog and Spotted Deer, Red Muntjac, Himalayan Brown Ghoral and Yellow-throated Marten, few interesting reptiles likeMarsh Mugger and Gharial and Golden Mashree Fish were also seen.
Visited Sites
General Travelling Information
Day 01: Girija Devi Temple and Koshi River. Overnight at Tiger Camp
Day 02: Dhikala, Corbet National Park. Overnight at Forest Rest House
Day 03: Safari inside Park. Overnight ar Tiger Camp
Day 04: Kumeria Birding, transfered to Pangot. Overnight at Jungle Lore Birding Logde.
Day 05: Pangot. Overnight at Jungle Lore Birding Lodge.
Day 06: Pangot. Overnight at Jungle Lore Birding Lodge.
Day 07: Transfered to Jageshwar. Overnight at Van Serai.
Day 08: Jageshwar. Overnight at Van Serai.
Day 09: Jangeshwar to Chanfi. Overnight Mapple Hermitage.
Day 10: Sattal. Overnight Mapple Hermitage.
Day 11: Sattal to Delhi
Acknowledgements
I would like to thank Mohit Aggarwal and Asian Adventures team for giving me this wonderful oppertunity.
Pangot
Diary
05 February 2018: DAY 01: Girija Devi Temple, Koshi River
We had a short afternoon birding after meeting and lunch at Tiger Camp. We walked from the temple gate to koshi river through a road with bushes on either side, good for many small birds. Here we saw Slaty Blue Flycatcher, Small Niltava,Yellow-bellied Fantail and Taiga Flycatcher. We then went down to koshi river bank and picked up Ibisbill quickly and enjoyed many brilliant birds such as River Lapwing, Crested, Pied and White-throated Kingfisher, White-capped and Plumbeous Redstart, Hume's and Greenish Warbler and finally Wallcreeper which was very close and posing for the photo. Lineated Barbet and Lesser Goldenback was seen on a fig tree along with a Brown Rock Chat on a roof of a house while we were returning from the river. It was a great afternoon birding at Koshi river.
06 February 2018: DAY 02: Dhikala, Corbett National Park
After early breakfast we headed to dhikala on jeep safari. Weather was misty so birds movements was very less. Although we managed to picked up Grey-headed and Fulvous-breasted Woodpecker, Ashy Bulbul and Blue-winged Siva. On the way we heard a terrible alarm call by Sambar and waited for long time but didn't get any
glimpse of the suspect and continued driving. We enjoyed Blue-throated and Lineated Barbets feeding on berries and Black-hooded Oriole, Red-breasted Parakeet on the way to dhikala. After checked In into dhikala we hanged around the hotel campus and scanned down to Ramganga River and got Black Stork and RiverTern. Afternoon safari started after Lunch and last till the sunset but no Tiger. We saw a big herd of Asian Elephant, Spotted Deer, Sambar, Hog Deer along with Collared Falconet, Black-winged Kite, Red Jungle Fowl, Pallas's and Lesser Fish Eagle, Changeable Hawk Eagle, Long-billed and Tawny Pipit.
07 February 2018: DAY 03: Dhikala, Corbett National Park
We had early jeep safari and we tried very hard for the tiger but did not get any exciting momment but our eyes were looking for birds always so we picked up some Crested Treeswift, Alpine Swift and Plain Martin flying over in the sky. We then back to hotel for breakfast hanged around till lunch time and did check-out from the hotel. White-bellied Drongo was seen inside the hotel campus and Himalayan Vulture and Cinereous Vulture were soaring higher up in the blue sky. On the way back to Tiger Camp we again spend sometime trying to track some tiger but with no luck. We heard very harsh call by Mountain Hawk Eagle and had very great view of a juvenile one.Then we stopped at crocodile view point and observed Marsh Mugger and Gharial enjoying the sun on the river bank.On the way we encountered with Himalayan Flameback and Greater Flameback, Greater Yellownape and Streak-throated Woodpecker all in one place moving one to next tree with drumming and short contact calls. We had short look of museum at Dhangadi gate and Spangled Drongo was seen in a big Cotton Tree by the roadside.
08 February 2018: DAY 04: Kumeria in the morning, pangot at afternoon
We drove to kumeria after breakfast to find out some birds for Roger but the weather was much windy this morning. We encountered with a feeding flock of Common Woodshrike moving fast higher-up in the tree canopy. On the way down to Koshi River we picked up Black-throated Sunbird, Long-tailed Minivet, and Greater Flameback better view than last time.Koshi river was very quite due to strong wind so we had to try hard and waited long time for Brown Dipper and finally got him. We heard Tawny Fish Owl inside from the hill covered by trees and tried some playback which responded but didn't come out in open. We managed to get better view of White-crested Laughingthrush along with a group of Oriental White-eye. We then moved back to Tiger Camp and headed to pangot after lunch. On the way we stopped at Corbet Waterfalls and had short walk around and then continued drive and reached Pangot by late afternoon. here we sets for couple of days to explore himalayas and all our accomodations are booked in Jungle Lore Birding Lodge; A pioneer birding lodge of India and the best birding lodge in the region.
09 February 2018: DAY 05: Pangot
Pangot is one of the best birding hotspot for Himalayan birds so we started earlier with our packed breakfast. Driving slowly on the road and scanning both sides on ground, which is the best method to catch some pheasants and partridges. After a while we encountered with a Rufous-throated Partrigde walking on the road slowly. It was an unusual sighting of this bird at this area for me, although we had really good view and Roger tried to shoot with his lense but it ran away and we again tried by off from the car but it flew off. We then continued driving and picked up some brilliant birds such as Himalayan Bluetail, Alpine Thrush, Grey-winged Blackbird, Blue Whistling Thrush and of course in mammals Himalayan Brown Ghoral and Red Muntjac to name a few. We stopped at Cheer Point for short time and scanned around the Rocky mountain with Grass in the valley for Cheer with no result. We picked up Blue-capped Redstart, a big flock of Altai Accentor, Black-throated Tit and Common Kestrel. We kept our driving further to catch other pheasants and got a family of Kalij Pheasant feeding on foliage just down from the road. We moved further and stopped at a place for breakfast and enjoyed with Fire-tailed Sunbird, Coal, Yellow-browed and Green-backed Tits.We again tried for pheasants around that area and decided to return to the Cheer point. On the way back to cheer point we encountered surprisingly with a family of Koklass Pheasant on the road. They were feeding on ground by the road side and a male walked slowly and came on middle of the road, noticed our car and
climbed up on the hill but others ran away down in the valley. We again did an unsuccessful approach for the photograph. Then we directly came to the Cheerpoint and scan around those valleys for the long time. We had good view of Himalayan Vulture getting thermal and soaring up in the valley. We did scan almost every corner of the valley and finally got a family of Cheer Pheasant very far from us and observed through a spotting scope. It was an incredible morning birding. We then picked up some beautiful birds such as Brown-fronted Woodpecker, Greater
Yellownape, Himalayan Woodpecker, Rufous-bellied Woodpecker at Woodpecker Point on the way back to Jungle Lore Birding Lodge. At afternoon we drove down to Ghughukhan valley and walked along the road sides and got some colorful himalalyan beauties such as Fire-breasted Flowerpecker, Pink-browed Rosefinch, Black-lored Tit, Rock Bunting, Blue-fronted Redstart and Rufous-breasted Accentor. A perfect birding day came to the end with a flock of Speckled Wood Pigeon.
10 February 2018: DAY 06: Around Pangot
Another morning birding with no rush started after warm breakfast at the lodge. We did the same route up to the same point where we had breakfast yesterday. We heard something scratching on ground and moving slowly on foliage. We also walked slowly kept our eyes on the ground, suddenly a male Hill Partridge ran away infront of us and hidden inside another bush. I told Roger to stay still at a place and made the bird to came out near to him, after a while it flew off just in front of him. We then moved down to a village and waited for a while in front of a bush.Here we had really good view of a western himalayan restrict range species Black-throated Accentor along with many Rock Buntings and Russet Sparrows. On the way back we stopped at Cheer Point and look around for the raptors and got a Steppe Eagle mobbed by a Himalayan Buzzard and had a nice view of an Upland Pipit on a big rock. We went down to Timlapani for afternoon birding and picked up a very colourful male Crimson Sunbird, a nice male of White-tailed Rubythroat, Common Rosefinch, Yellow-breasted Greenfinch, Speckled Piculet and an elusive species Scaly-breasted Wren Babbler. We then drove more further to try to get other species and got a male Grey-capped Pygmy Woodpecker and finally a tiny group of targeted and one of the very rare bird Grey-crowned Prinia. It was a wonderful and exciting birding day.
11 February 2018: DAY 07: Morning at Pangot, Jageshwar at afternoon
We had very quite birding around Killbury in this morning. Most of the species were repeated such as White-throated Laughingthrush, Black-headed and Eurasian Jay, varieties of warblers and tits, some woodpeckers, at last we had a great view of Lesser Yellownape. After lunch we drove nearly 4.5 hrs to Jageshwhar. On the way we picked up hundreds of juvenile Steppe Eagle near the dumping sites at Bhawali and Almora. At a time my eyes stuck on a raptor which has narrow wings and longer tail than those Steppe Eagles, suddenly I asked Joginder to stop the car; that was definitely an adult Bonelli's Eagle what I had doubted for. We reached a very peaceful hotel Van Serai at late afternoon.
12 February 2018: DAY 08: Jageshwar
It was a very worst birding day of the trip. We started birding on the way to Vridhda Jageshwar after warm breakfast at hotel but weather didn't favour us. But we continued our birding before the rain starts and picked up some tits, warblers, Himalayan Bluetail and a Green Shrike-babbler (which was in very rush). When the rain started heavily we closed our birding and drove upto Vridhda Jageshwar temple for a short look. The temple had been running under constructions and repairing work. We then returned to Van Serai and made us warm inside our blanket. Later the rain was stopped for a while and Roger and Anne had nice walk to the Jageshwar temple and he saw a Spotted Forktail in the small creek infront of Van Serai.
13 February 2018: DAY 09: Morning at Jageshwar, Chanfi at Afternoon
We walked on the road following by a creek looking for the forktails and other birds and got a Slaty-backed Forktail as expected.We then enteredt he Eco-park area through a trekking trail along with another small creek. Most of the birds were repeated species such as Scaly-breasted Wren-babbler, Grey-hooded, Lamon-rumped and Buff-barred Warbler, all commonly seen Tits and a Treecreepers. At last, we had wonderful view of Ashy throated Warbler and GreyTreepie, We then returned to the lodge and headed to Bhimtal after lunch. After quick checked-into hotel Mapple Hermitage we birded around Chanfi and Picked up two pairs of Spotted Forktail along with Yellow-bellied Fantail and Whistler's Warbler in the vegetation near a small creek. A female White-tailed Rubythroat was seen and found a Brown Fish Owl roosting on a pine tree. Not being late we picked up Asian Barred Owlet roosting on another pine tree nearby. It was a perfect ending of the day.
14 February 2018: DAY 10: Sattal
After pre-sunrise breakfast we had very wonderful time at a little birding hotspots before sattal. We first encountered with a male White-tailed Rubythroat in a bush just near the road side. We then moved further and surrounded by Red-billed Leiothrix both side of the bushes. Not being late; a pair of Rufous-chinned Laughingthrush show off surprisingly close on the top of the bush. We had really brilliant birds such as Grey-backed Shrike, Rusty-cheecked Scimitar Babbler, Slaty Blue Flycatcher, and finally a gorgeous male Siberian Rubythroat here. After catching them we entered in Sattal park area and walked along the forest. Here we had
encountered with many feeding parties of warblers and tits. We found a big feeding group of Blue-winged Siva, Some Chestnut-bellied Nuthatch.We followed a small trail from Lantana bushes and picked up Whistler's Warblers, Himlayan Bluetail and Blue-capped Redstart. Suddenly I noticed a call and moved faster towards the sound and got gorgeous Common Green Magpie; what a beautiful bird. We enjoyed with Tickell's Thrush, Grey-winged Blackbird and Woodpeckers and moved further to Studio (a place where all photographers come and stay with their big equipments). We spotted Green Sandpiper and Red-wattled Lapwing on the bank of the lake and I was dragged by an interesting call by a skulker and waited him to come out. Finally a Pygmy Wren-babbler appeared skulking in undergrowth along side of track. After a while Chestnut-headed Tesia joined the play, a brilliant sighting of both skulkers, amazing!. We spent our afternoon again around the same place and picked up Black Bulbul and Rufous-gorgetted Flycatcher. Later on we had a good view of a Mountain Hawk Eagle before the day off.
15 February 2018: DAY 11: Morning at Sattal and departure
Last day of the tour ended after a short morning birding around again in Sattal. We birded shortly and picked up some regular species which we had seen before with their feeding flocks. A Mountain Bulbul seen as a new along with some Grey-headed Canary Flycatcher as second time for the trip. Fantastic morning session closed by a brilliant view of Green-tailed Sunbird. We then drove back to the hotel and departed.
At last the tour was very successful. All birding days were so excited except one day at Jageshwar. More than 200 bird species recorded during this trip including three species of Accentors, six species of Laughingthrushes, three species of Pheasants (including globally threatened Cheer), seven species of Bulbuls, two Wren-babblers, twelve species of Woodpeckers and finally Ibisbill, Wllcreeper, Brown Dipper and rare Grey-crowned Prinia.
Species List
Order:
systematic
|
alphabetic
|
highlights first