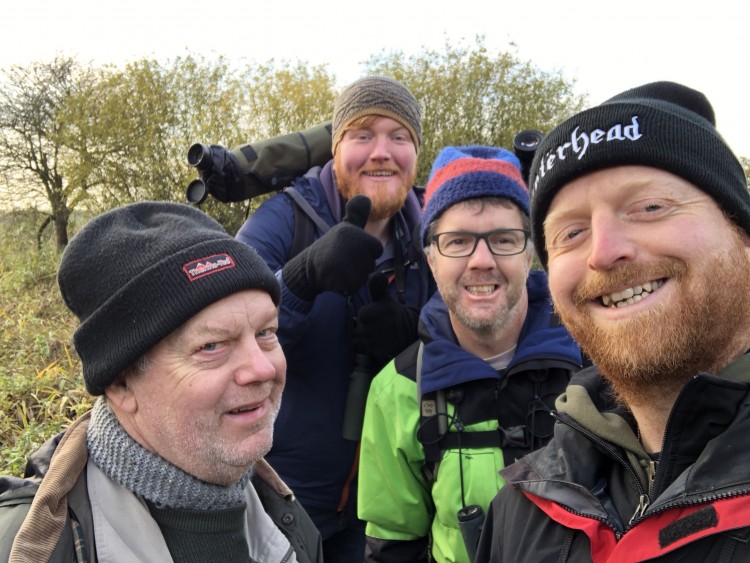 Holkham NNR
16 November 2019
08:50 to 15:20
Holkham National Nature Reserve is increasingly visitor friendly, with ample parking the length of Lady Anne's Drive, The Lookout cafe and toilets provide easy access paths connecting Holkham Bay and Wells-next-Sea. It is very popular with dog walkers in particular. Despite all this it remains a magnet for rare, scare and indeed all birds. It comes alive in late autumn/ early winter when the geese return, standing water collects in the fields and there are still warblers and migrants to be found in the bushes. We timed our late autumn/ early winter visit perfectly to pillage the best of both seasons…
We parked on Lady Anne's and then walked west to Joe Jordan hide and the migrant trap bushes beyond towards the Burnhams. We had a constant accompaniment of Pink-footed Geese overhead, a Great White Egret was one of the first birds to fly over and all standing water is attended by Lapwing, Teal, Wigeon and the odd Ruff. We also had a covey of nine Grey Partridge right next to the car. I love seeing these, now localised, game birds. Our first quarry species of the day was Hume's Leaf Warbler - a lifer for three of our party of four. Initial scrutiny of the area in question wasn't successful, we retired to the to Joe Jordan hide watching commuting geese, Marsh Harrier and Red Kites reinvigorated us for a successful second attempt - with all of the party achieving really good views of the eastern sprite.
Lifer-drunk we strolled back to The Lookout for a coffee and vegan sausage roll hit. Fuelled we strolled out into Holkham Bay the seaward side of the pines. We located feeding Shore Lark, six of them in total, the yellow-black face is stunning - especially backgrounded by drab salt marsh and in the steel light of a winter's day; one of the star species of winter birding in Norfolk.
Pleased with Shore Lark we turned our attention to the sea. Almost the first bird I saw was a diver in the slack of the breakers and close to shore. An initial bin view before it dived showed a 'bumped' forehead which reminded me of Great Northern or Black-throated. Eventually, the whole group gained good views and we confirmed Black-throated Diver. Always wonderful to see - especially in the company of Red-breasted Merganser, Common Scoter, Eider and Slavonian Grebe. Our walk back to the car garnered better views of the feeding Shore Lark and feeding Stonechat.
Finally, we all piled into one car and headed east to the Wells-next-Sea side of the reserve to view a perched Rough-legged Buzzard. Complete with an attendant Great White Egret! The Med meets the Arctic on the Norfolk coast!
A fitting end to wonderful days birding.
Visited Sites
General Travelling Information
Species List
Order:
systematic
|
alphabetic
|
highlights first
Published: 17 November 2019
Last updated: 17 November 2019