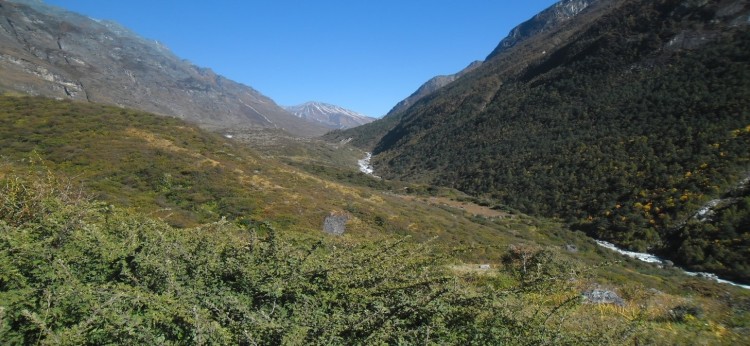 Birding Trek to Langtang National Park:- October, 2014
09 October 2014 – 16 October 2014

Langtang National Park with 1710 km2 as the first national park in the mountain region of Nepal was established in 26 March 1976. The main aim of its establishment is to protect the central Himalayan ecosystem of Nepal. It is the nearest national park and is only 117 km north from the Kathmandu by road. The park encloses the catchment of two river system : one draining west into the Trisuli and other east to Sun Koshi. The Park is bisected east-west to south-east by the Gosaikunda Lake (4300m) and Dorje Lhakhpa (6888m) range in the north. Langtang Lirung (7245m) is the highest point in the park.
The park has recorded 46 species of mammalian fauna including Snow Leopard, Clouded Leopard, Musk Deer, Red Panda and Assamese Monkey. Till now, 58 species of Butterfly, 10 species of spider, 30 species of fish and 11 species of herpeto -fauna is recorded. Park harbors more than 1000 species of plant including Larix nepalensis, Rhododendron cawaniannum and Rhododendron lowndesii.
A total of 345 bird species including residents and migrants have been listed which in all represents 37 bird families of the world. The most numerous birds come from the Muscicapidae with 61 species followed by Sylvidae with 58 species and Fringillidae with 30 species. The best season of bird watching is March-April which coincides with one of the two best seasons of trekking in the Nepal Himalayas. The Langtang-Kyangjing (10-12 days), Goshainkunda-Suryakunda-Thadepati-Sundarijal (12-14 days), Helambu (10-12 days) are the main trekking routes where one can find all basic facilities including lodge and food. Ganjala pass (Kyangjin-Helambu), Panchpokhari (Chautara-Melamchipool), Dorjelhakpa are the vergin trekking routes for group trekkers who can manage all logistics themselves.
Visited Sites
General Travelling Information
Day 01: Kathmandu to Syaphru Besi
Day 02: Syaphrubesi to Rimche
Day 03: Rimche to Langtang Village
Day 04: Langtang Village to Kanjin to Langtang Village
Day 05: Langtang Village to Ghodatabel
Day 06: Ghodatbabela to Rimche
Day 07: Rimche to Thulo Syaphru
Day 08: Thulo Syphru tho Thulo Bharkhu (Dhunche) and Drive to Kathmandu
Langtang
Langtang is a region in the north-central Himalayas of the Bagmati province of Nepal. Situated 150 kilometres north of the Kathmandu, the region is renowned for hosting the Langtang national park which eventually constitutes the border with the Tibet autonomous region of China. About 4,500 people reside inside the park (with Tamang as majority), and many more depend on it for timber and firewood.
The park contains a wide variety of climatic zones, from subtropical to alpine.[1] Approximately 25% of the park is forested. Trees include the deciduous oak and maple, evergreens like pine, and various types of rhododendron. Animal life includes the Himalayan black bear, the goat-like Himalayan tahr, Assam macaque and red pandas[2]. There are also stories of Yeti sightings.
The park contains the Gosainkunda lakes, sacred to Hindus. Pilgrimages are made there in August. Another spiritual site is the Buddhist monastery Kyanjin Gompa. Popular activities for tourists in the park include trekking, climbing, and white-water rafting.

How to get there
Public Bushes or Shared Taxi are available daily from Kathmandu to Syaphrubesi,
Facilities & accommodation
accommodation in Tea houses.
Diary
09 October 2014: DAY 01:
The trip started from Kathmandu. In the early morning we drove towards Dhunche from Kathmandu. We reached Trisuli at 11:00 am and had lunch and continued driving. The roads near Dhunche was very bad due to landslides so we got many traffics, sometimes we walked and again drove and we arrived Dhunche at 4:00 pm. We paid for the entrance tickets and continued driving to Shyaphrubesi. Our accommodation and dinner was at Peaceful Hotel and the hotel is very good for rooms and food . We saw some beautiful birds on the way: Scarlet Minivet, Spotted Nutcracker, Grey Bushchat, Blue-whistling Thrush, Rufous Sibia, Grey Wagtail, Red-billed Leiothrix to name a few.
10 October 2014: DAY 02:
It was our second day of the trip and first day of the trekking. We followed the trail at side of the Langtang River which tooked us to Lama Hotel. The day was very good with good sunlight. Having lunch at Bamboo we reached Rimche at afternoon. We were planning to go to Lama Hotel but we heard from other trekkers that hotels around Lama Hotels are all occupied so we stayed at Moonlight Hotel, Rimche. Rimche is very good place for birds. On this day we saw many birds during ups and dowm trek; Himalayan Bulbul, Black Bulbul, Grey Treepie, Yellow-bellied Fantail, Black-faced Warbler, Brown Dipper, White-capped Redstart, Plumbeous Water Redstart etc..
11 October 2014: DAY 03:
They day started with warm sunlights and the early morning is very good for birds so we started our trekking earlier. After having warm breakfast at 6:30am we walked to Langtang Village following the trail goes through the riverside. The habitat on the way to Langtang from Rimche was very good. We took our lunch at Thangshyap and reached Langtang village at afternoon. We already did reservation for accommodation in Langtang village at Everest Hotel so geeting accommodation was easier this day. Today we saw Cola Tit, Grey-crested Tit, Whistler Warbler, Long-tailed Minivet, Variegated Laughing Thrush, Chestnut-crowned Laughing Thrush, Rusty-flanked Treecreeper, Little Forktail, Spotted Forktail, Yellow-breasted Greenfinch etc.
12 October 2014: DAY 04:
We stayed in Langtang Village to give some rest to our body and acclimatize. Manolo and I walked around the fields and bushes and saw some different birds; Northern Goshawk, Snow Pigeon, Red-billed Chough, Alpine Chough, Rufous-breasted Accentor, Rosy Pipit, Dark-breasted Rosefinch, Common Rosefinch, Beautiful Rosefinch etc.
13 October 2014: DAY 05:
This day our itinerary is changed because Manolo and Coral felt some altitude sickness and not interested to go up to Kyanjin Gumba. They told that they are more interested to go back to Thangsyap so after having breakfast in the morning we returned to Ghodatabela. We took lunch there and styed overnight. The weather was good till the noon but at afternoon it changed dramatically and started raining all over the night. Golden Bush Robin, Aberrant Bush Warbler, Spotted Laughingthrush are main highlights of the day.
14 October 2014: DAY 06
It was a very worst day of the trip.The rain started form yesterday afternoon was not stopped yet, so all the day just raining and raining. We took breakfast at 8:00 am and waiting for good weather, after an hour the rain about to stop and we moved to Lama Hotel. Lama hotel was still full due to the bad weather so we walked further to Rimche at the same hotel we got the same room and stayed there. we saw very few birds but impossible for Photograph.
15 October 2014: DAY 07
The rain was stopped so the morning was so nice. We became very happy and started our walk with new energy. After having breakfast we moved towards Thulo Shyaphru. This day was very excellent day of the trip because we saw many different varieties of birds and also some of my lifer species. We reached Thulo Shyaphru and stayed in Snow Fall hotel. Here we can see the good view of mountains including Ganesh Himal. Today we saw Black-throated Sunbird, Speckled Piculet, Brown-fronted Woodpecker, Mountain Hawk Eagle, Chestnut-crowned Warbler etc…
16 October 2014: DAY 08
This is the last day of our trip, so we started same like other day with having breakfast at 6:30 and we walked towards Thulo Bharkhu. We reached Thulo Bharkhu at 10:00am there our car was waiting us and we came back to Kahtmandu and arrived at evening.
Species List
Order:
systematic
|
alphabetic
|
highlights first
Published: 22 May 2020
Last updated: 20 June 2020