Georgia & Armenia
26 April 2015 – 05 May 2015

Visited Sites
General Travelling Information
Despite their small size, Georgia and Armenia offer some of the most sought-after bird species in the Western Palearctic. Nowhere else the chance of seing Great Rosefinch, White-winged Redstart, Mountain Chiffchaff, Caucasian Black Grouse and Persian Wheatear are this good. Apart from the famous observation area in Kazbegi, there are other, extremely exciting observation areas. Especially during spring migration period between mid-April and mid-May, when bird species from Central Asia and Russia migrate across Georgia. By the way, this is also the best time for the local specialities mentioned before, which mowe down from their high altitude breeding habitats because of the snow and are thus easier to find in (early) spring. Contrairly, in Armenia, specialties such as Persian Wheatear, Grey-necked Bunting, Green Warbler, Upcher's Warbler and Pale Rock Sparrow only come back during may from their wintering grounds.
We rented cars from cars4rent.ge which worked very well. It is important, however, to nota that if you have a damage or breakdown, you must immediately inform the insurance before moving the car. If you want to folow up to Armenia with a car hired in Georgia, you need a certified translation of the lease and of the permission. The car rental can do this for you in advance. When entering Armenia, you will have to make an insurance for the rental car again, even if you already have one. Discussing was pointless ;-)
For navigation, the OSM App has been very helpful. The big advantages is that you can use the app offline and that the maps are extremely detailed. It is best to save the exact places already as favorites at home, which saves a lot of time in the field. For longer distances (over 200 km) you should divide the route with intermediate destinations.
Kumisi Reservoir
Kumasi Lake is located near the capital Tbilisi (approximately 1 hour by car). Especially on the northern shore you can find some good wetlands and some dams from where you have a god view over the lake. During migration you can see virtually every wetland species to be expected to turn up in Georgia. This included Pygmy Cormorant, Ruddy Shelduck, Pallas's Gull, Armenian Gull and White-winged Tern. Many passerines are resting here on migration like Red-breasted Flycatcher, Bluethroat, variegata Stonechats, Black-headed Wagtail and some Black-eared Wheatears and Pied Wheatears. Migrating raptors can be seen in the sky. According to local birdwatchers Demoiselle Crane is also seen from time to time.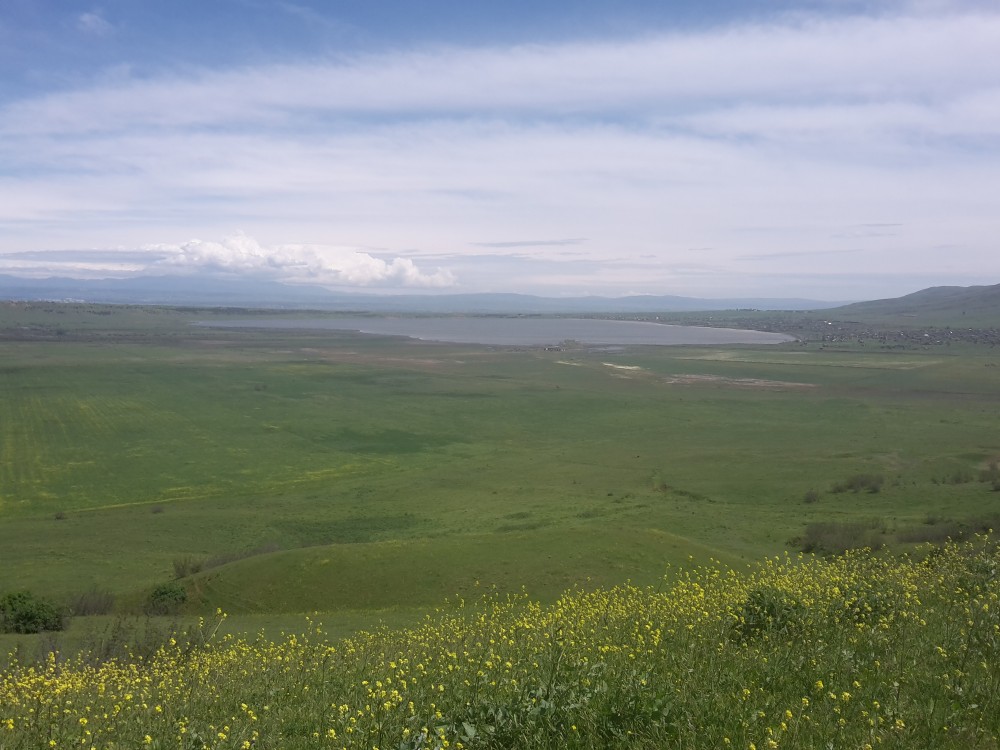 Target species
Demoiselle Crane

Anthropoides virgo

Pygmy Cormorant

Microcarbo pygmaeus

Pallas's Gull

Ichthyaetus ichthyaetus

Armenian Gull

Larus armenicus

Bluethroat

Luscinia svecica

Red-breasted Flycatcher

Ficedula parva

Pied Wheatear

Oenanthe pleschanka
Fields between Rustavi and Jandari
The field between Rustavi and Djandara Lake are a known site for Demoiselle Cranes on migration.
Target species
Demoiselle Crane

Anthropoides virgo

Cinereous Vulture

Aegypius monachus

Imperial Eagle

Aquila heliaca
Stepantsminda
Stephansminda, also known as Kazbegi, is the best-known birding spot of Georgia. Nowhere else are the chances better to see the birder's "Big Five" of the Caucasus (Caucasian Grouse, Caucasian Snowcock, Güldenstädt's Redstart, Caucasian Chiffchaff and Great Rosefinch). The best time is early May when the high alpine grouses, the Redstart and the Rosefinch are found much lower because of the snow. They can be found then on the slopes around the village. The bushes south of the village are the best spots to find Güldenstädt's Redstart and Great Rosefinch (in winter to end April). In the small forest below (N42°39'27.82", E44°39'35.06") Red-fronted Serins can be seen and from the coordinates itself you can scan the slopes for grouses and East Caucasian Tur. Caucasian Chiffchaff and other species like Twite, Horned Lark, Lammergeier or Chough can be found around the village. A popular spot to scan for Caucasian Grouse is the famous church of Tsminda Sameba west of the village (N42°39'45.32", E44°37'13.31"). It's especially worth if the snow has already melted far up.
Target species
Caucasian Snowcock

Tetraogallus caucasicus

Caucasian Grouse

Lyrurus mlokosiewiczi

Mountain Chiffchaff

Phylloscopus sindianus

White-winged Redstart

Phoenicurus erythrogastrus

Great Rosefinch

Carpodacus rubicilla
Mount Aragats summit road
Target species
Lesser Spotted Eagle

Clanga pomarina

Horned Lark

Eremophila alpestris

Mountain Chiffchaff

Phylloscopus sindianus

White-throated Robin

Irania gutturalis

Bluethroat

Luscinia svecica

Crimson-winged Finch

Rhodopechys sanguineus

Radde's Accentor

Prunella ocularis
Facilities & accommodation
Hotel: 40.296550° 44.296394°
Jandara Lake
The lake holds the same species like Kumisi Lake.
Vedi Hills
The Grey-necked Bunting is easy to find around the watering hole. In addition, Finch's Wheatear, Eastern- and Western Rock Nuthatch is present, too. From mid-May onwards you can also find Upcher's Warbler and Pale Rock Sparrow.
Target species
Egyptian Vulture

Neophron percnopterus

Lanner Falcon

Falco biarmicus

Upcher's Warbler

Hippolais languida

Western Rock Nuthatch

Sitta neumayer

Eastern Rock Nuthatch

Sitta tephronota

Finsch's Wheatear

Oenanthe finschii

Pale Rockfinch

Carpospiza brachydactyla

Mongolian Finch

Bucanetes mongolicus

extremely rare

Gray-necked Bunting

Emberiza buchanani
Facilities & accommodation
There are very few hotels in this region. We stayed in the very basic hotel oazis (39.920219°,44.752764°) in the neighboring village Dashtakar. From here you are quickly in the Vedi Hills and not too far away from Armash Fish Ponds.
Armash Fish Ponds
The Armash Fish Ponds are a very impressive wetland with thousands of terns, waders and other birds. Among them you can spot specialties such as White-tailed Lapwing, Thrush Nightingale, Blue-cheeked Bee-eater and Paddifield Warbler. During the migration season, you may find rare species such as Black-winged Pratincole, Terek Sandpiper, Great Snipe and Broad-billed Sandpiper.
Since the Armash Fish Ponds are private, Ananian Vasil (vasil.ananian@gmail.com) has organized the entry for us. He can also provide other useful tips for your trip.
Target species
White-tailed Lapwing

Vanellus leucurus

Paddyfield Warbler

Acrocephalus agricola

Menetries's Warbler

Curruca mystacea

Thrush Nightingale

Luscinia luscinia
Meghri
Right here on the border with Iran is the most reliable place for the Persian Wheatear.
Facilities & accommodation
Overnight we stayed in the budget hotel Mila (38.919238°, 46.222163°) just above Meghri.
Dilijan NP
Dilijan National Park is best known for the high densities of Green Warbler. But you can also find the rare semi-collared Flycatcher here.
Target species
Lesser Spotted Eagle

Clanga pomarina

Green Warbler

Phylloscopus nitidus

Semicollared Flycatcher

Ficedula semitorquata
Species List
Order:
systematic
|
alphabetic
|
highlights first
Published: 04 April 2019
Last updated: 05 April 2019